Backup Essentials for VMware vSphere
and Microsoft Hyper‑V

#1 VM Backup for small businesses –
Save up to 60% or more!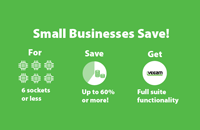 Veeam® Backup Essentials™ is a powerful, easy-to-use and affordable backup and Availability solution for small businesses. Designed for SMBs with less than 250 employees and virtual environments with up to 6 CPU sockets, Veeam Backup Essentials delivers the exact same functionality as Veeam Availability Suite™, with a savings of up to 60% or more!
Product Overview Top 10 Reasons to Choose Veeam
Affordable backup and Availability for SMBs
Veeam Backup Essentials, which includes Veeam Backup & Replication and Veeam ONE, offers the same enterprise-level functionality as Veeam Availability Suite and gives you everything you need to modernize your virtual data center. Veeam Backup & Replication v9 includes essential VMware vSphere and Microsoft Hyper‑V backup components for SMBs including:
2-in-1: backup and replication™ — Improve offsite backup and recovery with WAN-accelerated replication, replication from backup and 1-click site failover, with support for planned failover.
Instant VM Recovery™ — Recover a failed VM (virtual machine) in less than 2 minutes.
Veeam Cloud ConnectENHANCED: Easily extend your data center off site with fast, secure cloud backup and replication
SureBackup® — Test every backup, every time, before launch and ensure full recovery.
Veeam Explorer™ for Microsoft Active DirectoryENHANCED — Instantly recover individual Active Directory objects and entire containers, as well as user accounts and passwords.
Veeam Explorer for Microsoft SQLENHANCED — Get fast transaction-level recovery of SQL databases and restore SQL databases precisely to a desired point in time.
Veeam Explorer for Microsoft ExchangeENHANCED — Get instant visibility and granular recovery of individual Exchange items, including hard-deleted items you thought were lost forever.
Voice of Customer
I was already familiar with Veeam Backup & Replication because it had saved the day during our crisis, but I had no idea how amazing Veeam ONE can be…it instantly began giving us more insight into our backup environment and virtual environment than we had ever had before. For example, I immediately began getting emails about VMs with too many snapshots and CPU usage.